The IFBB 2022 Boston Pro marked the first show since the 2022 Arnold Classic and bodybuilding season is officially underway. The event took place on Saturday at the Sheraton Boston Hotel where champions from seven divisions punched their tickets to the 2022 Olympia, which will return to Las Vegas from Dec. 15-18. Ultimately, William Bonac won first place at the 2022 Boston Pro.
This was a loaded field in Men's Bodybuilding as six competitors returned to the stage following the Arnold Classic. William Bonac finished as the runner-up to Brandon Curry and entered the weekend as the favorite. Steve Kuclo and Samson Dauda were also looking to improve upon impressive performances in Columbus. This was not the only division that brought some firepower to Boston.
Erin Banks decided to compete once again fresh off a Men's Physique title at the Arnold Classic. Missy Truscott finished as the runner-up in Fitness and was looking to re-gain her position near the top of the division. This was an exciting show that featured plenty of talent across all divisions.
There were a total of seven divisions at the Boston Pro with winners vying for qualification to the Olympia. The full results have been announced. Check out our full breakdown of the IFBB 2022 IFBB Boston Pro Results results below.

Boston Pro 2022: All Division Winners
Men's Open: William Bonac
Classic Physique: Urs Kalecinski
Men's Physique: Erin Banks
Bikini: Maureen Blanquisco
Wellness: Yarishna Ayala Otero
Figure: Lola Montez
Fitness: Missy Truscott
Boston Pro 2022 Breakdown
Men's Open Results
First Place – William Bonac
Second Place – Justin Rodriguez
Third Place – Steve Kucklo
Fourth Place – Samson Dauda
Fifth Place – Maxx Charles
Classic Physique Results 
First Place – Urs Kalecinski
Second Place – Tony Duong
Third Place – Andrew Wilson
Men's Physique Results
First Place –  Erin Banks
Second Place – Diogo Montenegro
Third Place – Joshua Guidri
Bikini Results
First Place – Maureen Blanquisco
Second Place – Elisa Pecini
Third Place – Eli Fernandez
Wellness Results
First Place – Yarshina Ayala Otero
Second Place – Angela Borges
Third Place – Julia Chitarra de Melo
Figure Results
First Place – Lola Montez
Second Place – Nicole Zenobia Graham
Third Place – Bojana Vasiljevic
Fitness Results
First Place – Missy Truscott
Second Place – Jacqlyn Baker
Third Place – Tamara Vaugh
Official Score Cards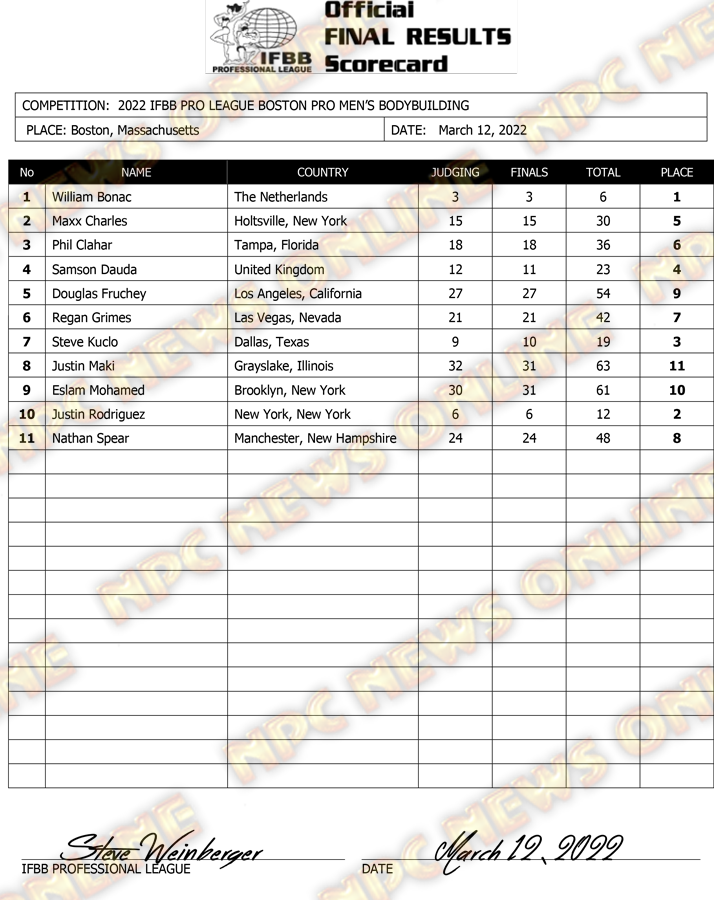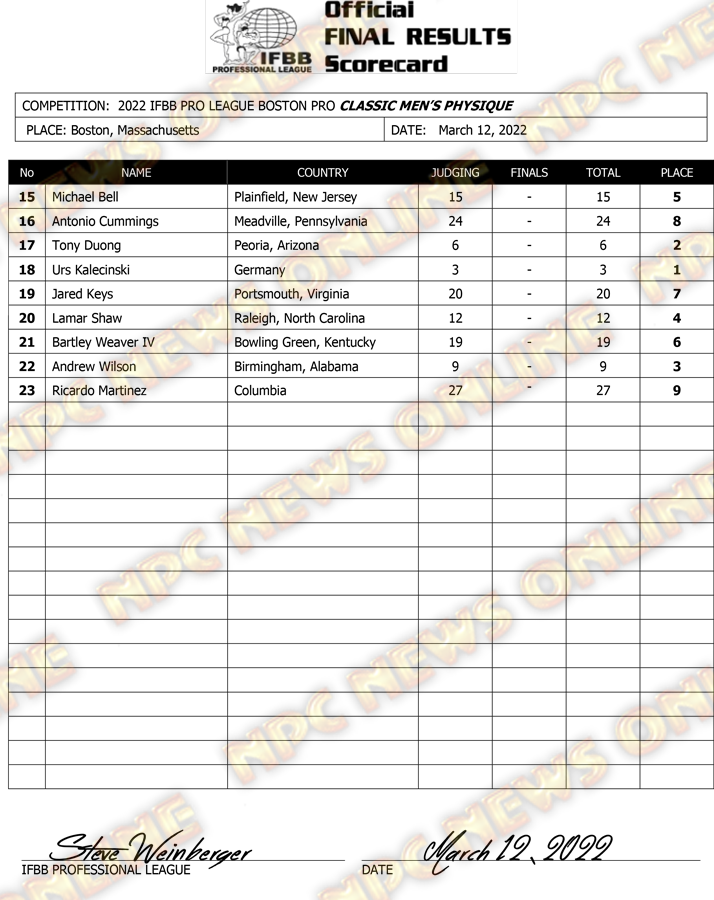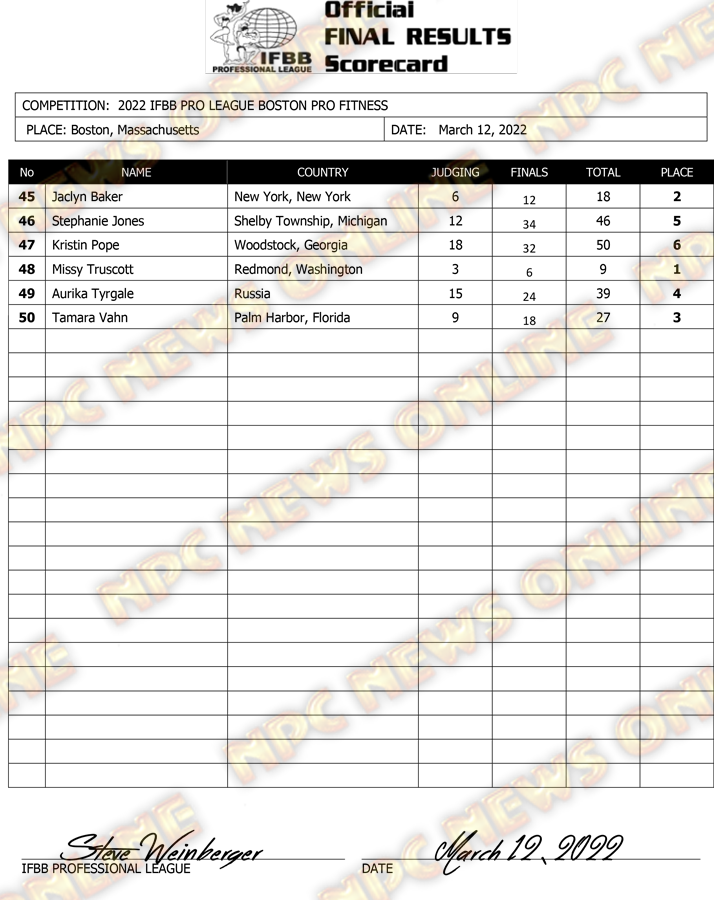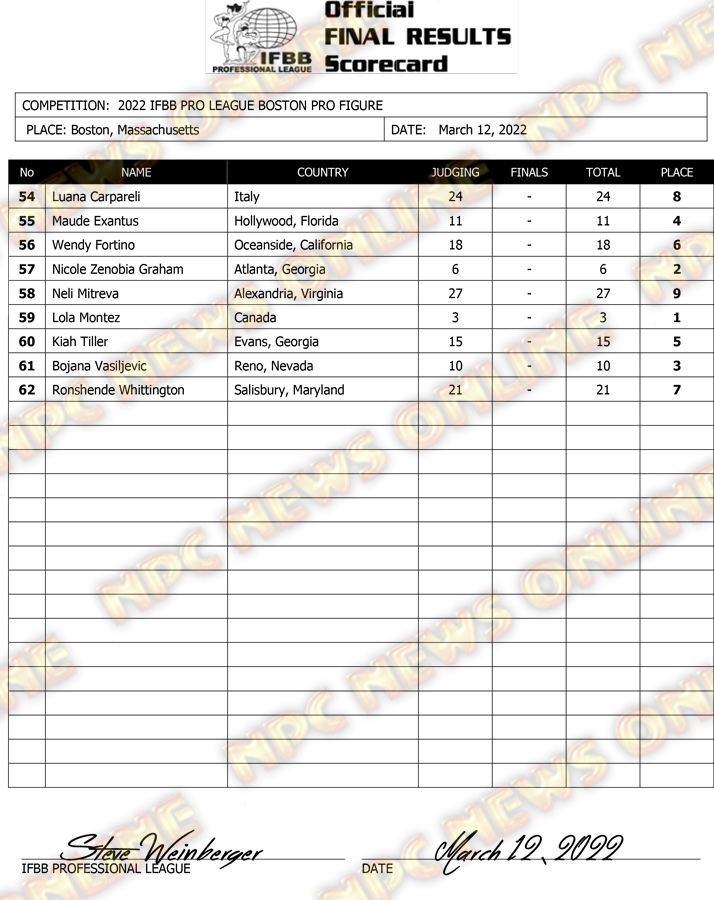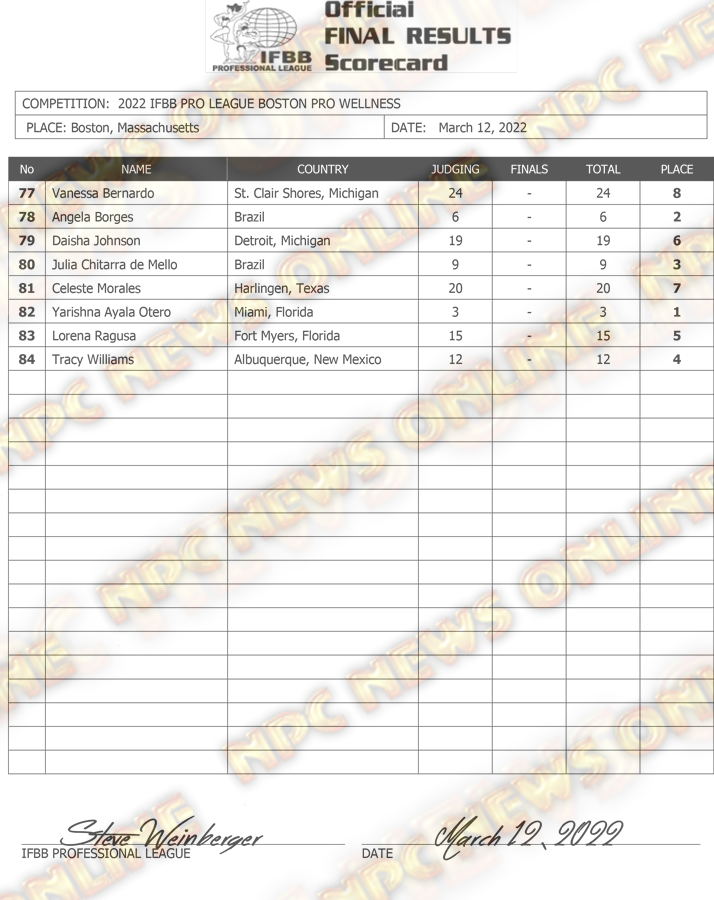 IFBNewsfeed.Org wishes to congratulate all the great athletes who earned a win at the IFBB Boston Pro 2022. Make sure to check out our full IFBB Pro results page from this year and previous years right here to catch up on any action you may have missed!
---
For
 More News And Daily Updates, Follow IFBNewsfeed.Org on Facebook, Twitter, and Instagram. Comment, Like, And Share With Everyone Who May Need To Be Updated With The Most Recent Fitness/Bodybuilding/Powerlifting And CrossFit News.