The 2022 Arnold Classic returned to its normal time of the first week in March to begin the bodybuilding season. There was a full slate of events planned all throughout the weekend after the 2021 show was cut down due to the pandemic. There were a total of seven divisions in competition over the weekend event. Brandon Curry headlined the event with a win in Men's Open.
The Men's Open lineup was hit hard with many names dropping out over the course of the last five weeks. Entering the weekend, Curry was considered the favorite because of his incredible success in recent years. William Bonac made his return to the stage after missing last year's competition while Steve Kuclo was looking to build off a third-place finish in September.
The 2022 Arnold Classic consisted of a total of eight divisions:
Men's Open
Classic Physique
Men's Physique
Pro Wheelchair
Figure International
Fitness International
Bikini International
Wellness International 
Day one showcased the Men's Open pre-judging seemingly placing either Brandon Curry or William Bonac into the lead position. But the battle was hard-fought and it can still be anyone's game. Justin Rodriguez and Steve Kuclo evened out the top 4. You can check out the full pre-judging callout report recap right here.
As we head into tomorrow's results – we can also expect the Ed Corney Most Muscular Award being awarded to a top competitor as well as Franco Columbu Best Posing Routine Award.
The full results for day one have been announced. Check out our full breakdown of each division at the Arnold Classic 2022 results below.
Arnold Classic 2022 Winners
Here are the first-place winners for each division at the Arnold Classic 2022.
Men's Open: Brandon Curry
Classic Physique: Terrence Ruffin
Fitness: Ariel Khadr
Figure: Cydney Gillon
Pro Wheelchair: Gabriele Andriulli
Men's Physique: Erin Banks
Bikini: Lauralie Chapados
Wellness: Isabelle Nunes
Arnold Classic 2022 Men's Open Results
First Place – Brandon Curry ($200,000)
Second Place – William Bonac ($120,000)
Third Place – Steve Kuclo ($70,000)
Fourth Place – Samson Dauda ($37,500)
Fifth Place – Justin Rodriguez ($20,000)
Sixth Place – Brett Wilkin ($12,500)
Seventh Place – Regan Grimes
Eight Place – Maxx Charles
Ninth Place – Fabio Giga Rezende
Arnold Classic 2022 Most Muscular Award
Arnold Classic 2022 Best Posing Routine Award
Previous Winners
2021: Nick Walker
2020: William Bonac
2019: Brandon Curry
2018: William Bonac
2017: Cedric McMillan
2016: Kai Greene
2015: Dexter Jackson



 Arnold Classic 2022 Classic Physique Results
Classic Physique attempted to steal the show on Friday night. Terrence Ruffin was crowned champion at the Arnold Classic 2022 in the Classic Physique division for the second consecutive year. This was a very top-heavy division and it showed during prejudging. Ruffin headlined the callouts, along with Ramon Rocha Queiroz and Breon Ansley. Urs Kalecinski rounded out a group of four competitors who were all top-five finishers at the 2021 Olympia.
First Place – Terrence Ruffin ($60,000)
Second Place – Ramon Rocha Queiroz ($30,000)
Third Place – Urs Kalecinski ($20,000)
Fourth Place – Breon Ansley ($7,000)
Fifth Place – Michael Daboul ($4,000)
Sixth Place – Peter Molnar ($2,000)
Seventh Place – Divine Wilson
Eighth Place – Darwin Uribe
Ninth Place – Lenny Wicks
Arnold Classic 2022 Fitness Results
For the second consecutive year, Truscott and Khadr were highlighted in the final callout during prejudging. As we have seen in the past, results can change come the finals. Jaclyn Baker was also impressed during prejudging and gave herself a chance to jump in the final results. This ended up being the top three as Khadr earned her first Arnold Classic victory.
First Place – Ariel Khadr ($25,000)
Second Place – Missy Truscott ($13,000)
Third Place – Jaclyn Baker ($8,000)
Fourth Place – Kate Errington ($5,000)
Fifth Place – Tamara Vahn ($3,000)
Sixth Place – Allison Kramer ($2,000)
Seventh Place – Minna Pajulahti
Eighth Place – Aurika Tyrgale
Ninth Place – Sara Kovach
Tenth Place – Amanda Ciani
Arnold Classic 2022 Figure Results
Jessica Reyes Padilla and Lola Montez were impressed during prejudging and put themselves in a position to make a move. In the end, Gillon was just a bit too strong. She is the reigning five-time Olympia champion. She was a big favorite coming into the event and did not disappoint.
First Place – Cydney Gillon ($16,000)
Second Place – Jessica Reyes Padilla ($10,000)
Third Place – Lola Montez ($8,000)
Fourth Place – Nicole Zenobia Graham ($5,000)
Fifth Place – Natalia Soltero ($3,000)
Sixth Place – Bojana Vasiljevic ($2,000)
Seventh Place – Latoya Farley
Eighth Place – Larhannah Robinson
Ninth Place – An Da-Jong
Tenth Place – Wendy Fortino
Arnold Classic 2022 Pro Wheelchair Results
The Pro Wheelchair division in bodybuilding continues to grow each year and it has become staples at the two biggest bodybuilding shows of the season over the years. The Olympia and Arnold Classic have featured Pro Wheelchair and this has helped grow popularity in the division. After missing out on the action in 2021, the division returned this time around and saw Gabriele Andriulli pull off an upset over Harold Kelley.
First Place – Gabriele Andriulli
Second Place – Harold Kelley
Third Place – Bradley Betts
Fourth Place – Chad McCrary
Arnold Classic 2022 Men's Physique Results
On Saturday night, Erin Banks was crowned champion at the Arnold Classic 2022 in the Men's Physique division. During prejudging, Banks displayed a presence on stage that was difficult to match. He showed incredible conditioning and size, especially his back and lats.
First Place – Erin Banks
Second Place – Emmanuel Hunter
Third Place – Diogo Montenegro
Fourth Place – Antoine Weatherspoon
Fifth Place – Choi Bong-Seok
Sixth Place – Terrence Teo Kok Hua
Seventh Place – Riccardo Croci
Eighth Place – Daniel Leone
Ninth Place – Drelyn Hunt
Arnold Classic 2022 Wellness Results
After makings its debut at the Olympia in October, Wellness appeared at the Arnold Classic for the first time over the weekend. In the end, it was Isabelle Nunes who took home the inaugural title at the event. Nunes stood out immediately in prejudging from a group that appeared on the Olympia stage months ago.
First Place – Isabelle Nunes
Second Place – Angela Borges
Third Place – Sunny Andrews
Fourth Place – Julia Chitarra
Fifth Place – Yarishna Ayala
Sixth Place – Kassandra Gillis
Seventh Place – Barbara Cesar
Eighth Place – Lorena Ragusa
Ninth Place – Devyn Cambre
Tenth Place – Casey DeLong
Arnold Classic 2022 Bikini Results
The Bikini International division is one that has been growing year to year. It was part of the Arnold Classic last year and has become extremely popular at the biggest events of the season. During this year's competition, it was Lauralie Chapados who impressed during prejudging and was able to turn that into a victory during the finals.
First Place – Lauralie Chapados
Second Place – Maureen Blanquisco
Third Place – Ashley Kaltwasser
Fourth Place – Elisa Pecini
Fifth Place – Jourdanne Lee
Sixth Place – Alessia Facchin
Seventh Place – Lucia Malavaze
Eighth Place – Lauren Dannenmiller
Ninth Place – Phoebe Hagan
Tenth Place – Allison Testu
Official Score Cards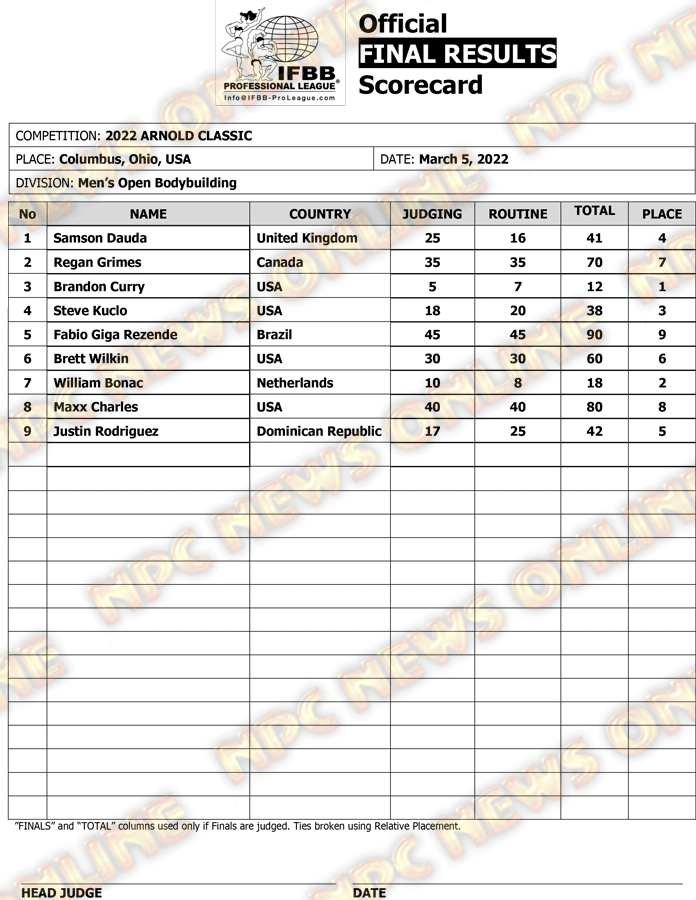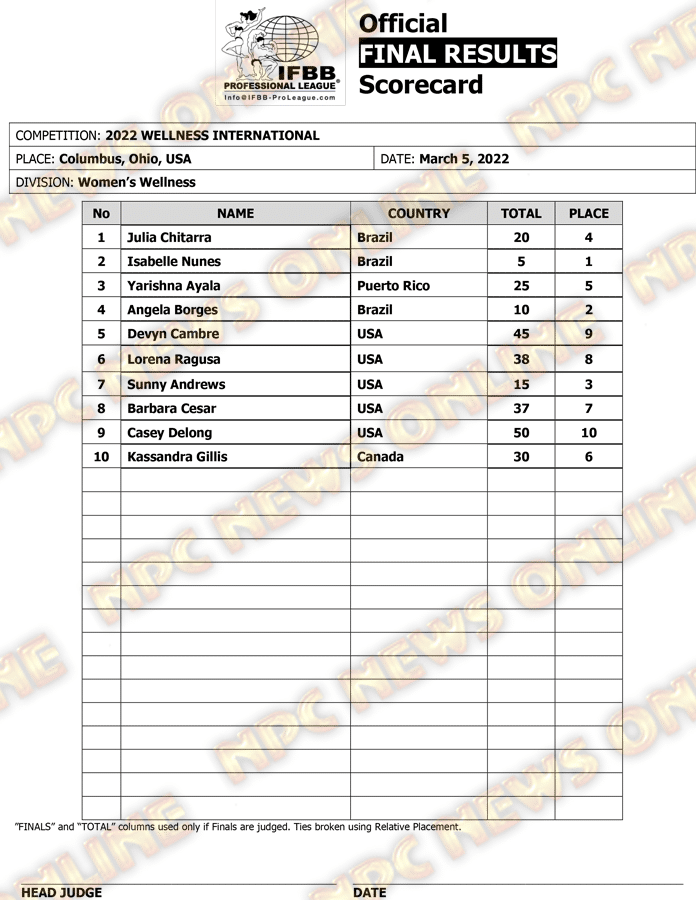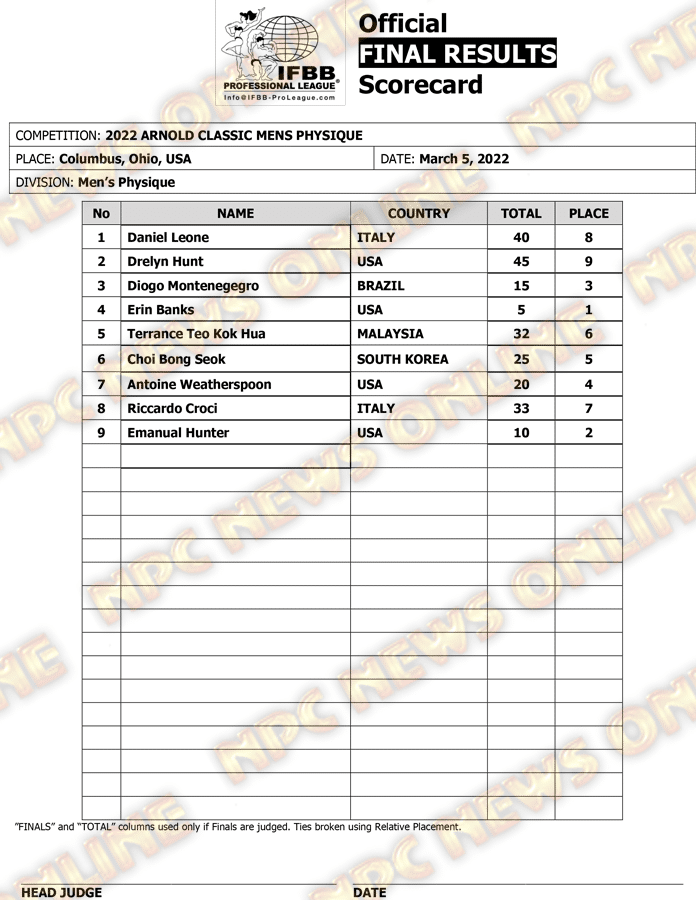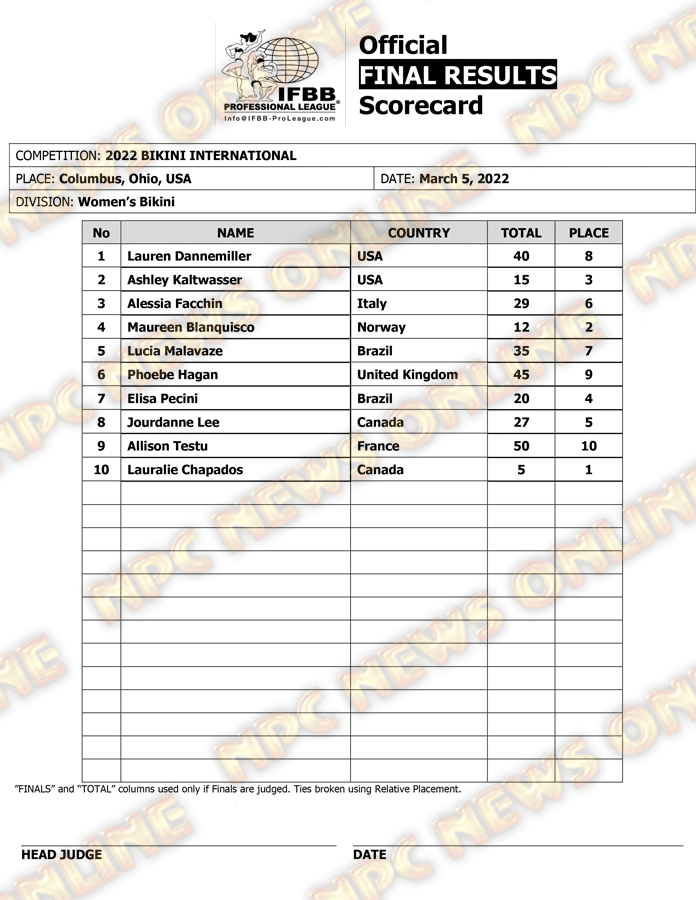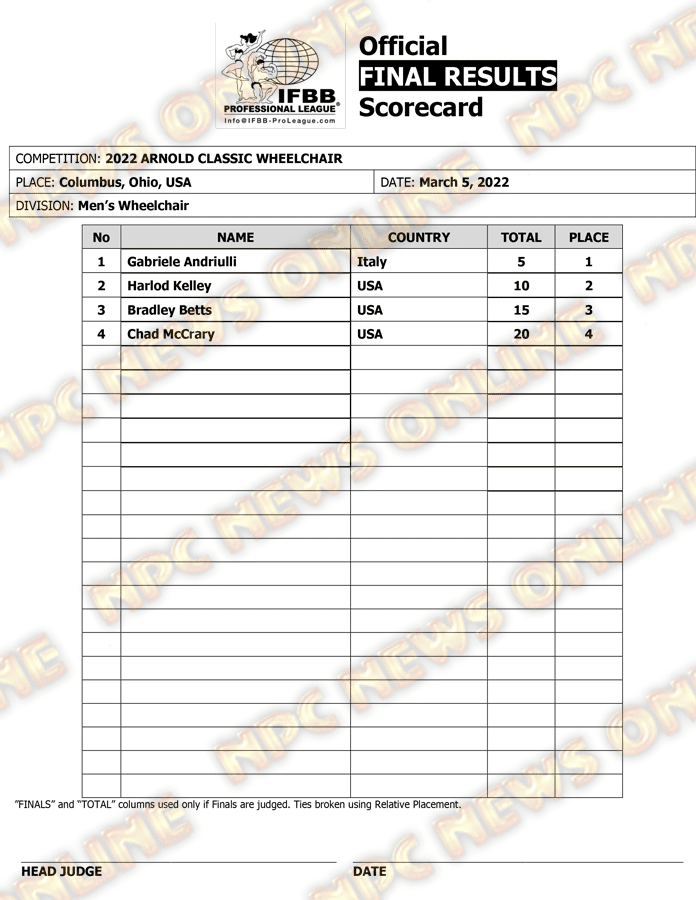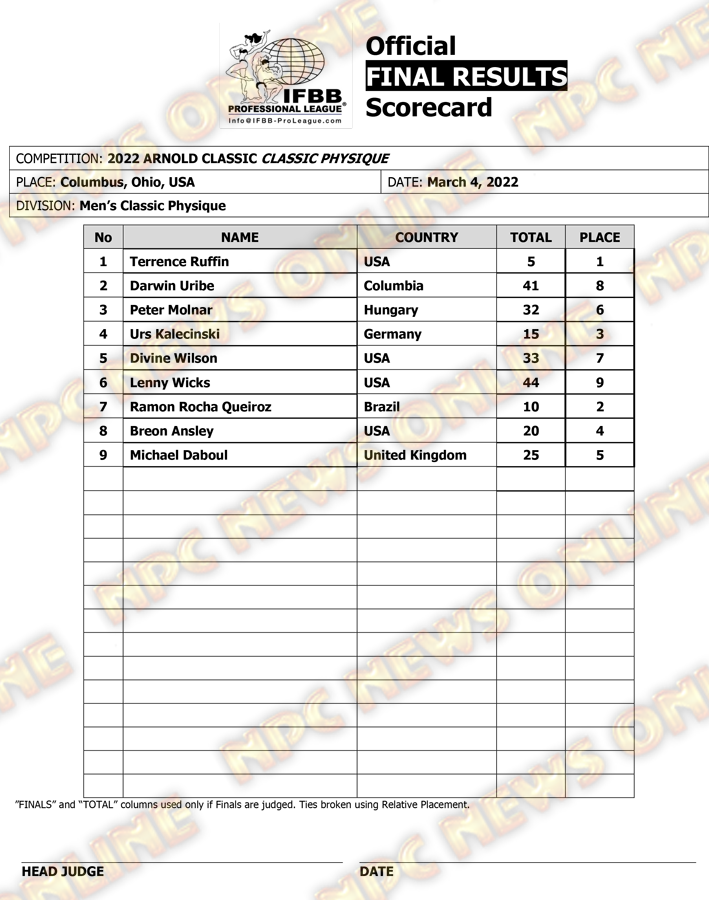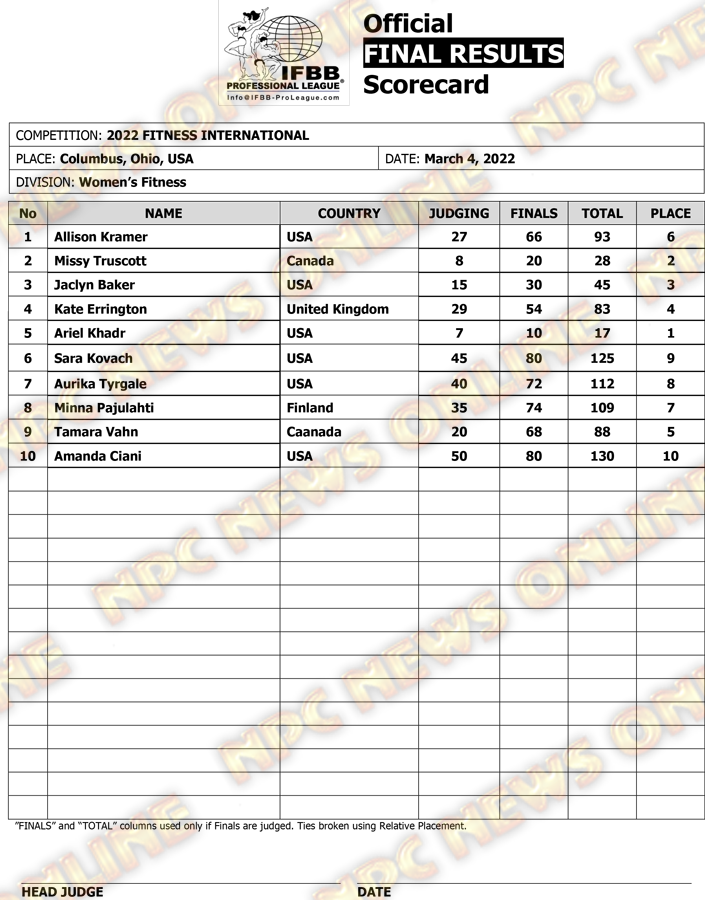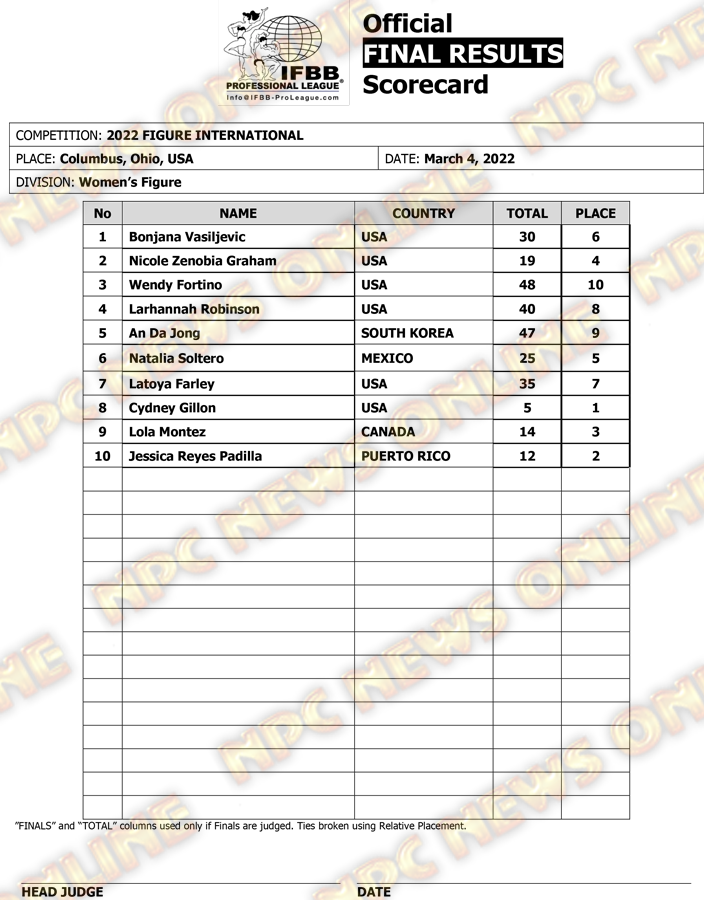 ---
For
 More News And Daily Updates, Follow IFBNewsfeed.Org on Facebook, Twitter, and Instagram. Comment, Like, And Share With Everyone Who May Need To Be Updated With The Most Recent Fitness/Bodybuilding/Powerlifting And CrossFit News.