The 2021 Legion Sports Fest Pro was the next big bodybuilding event and it was headlined by Shaun Clarida taking home the prize in Men's Open. Some of the top competitors in the world gathered to Reno, NV looking to gain qualification to the 2022 Olympia. Here are the 2021 Legion Sports Fest Pro Results
There was plenty of talent on stage on Sunday afternoon. In the Men's Open division, the most exciting story was Shaun Clarida's Men's Open debut. Ultimately and seemingly against all odds – Clarida was victorious despite only weighing just under 175 pounds – much lighter than a typical Men's Open competitor.
The first hint of Clarida's path to victory was during the prejudging round – where he was placed center during the final callout – a sign the judges were comparing all competitors to Clarida's physique. He later brought the victory home in the finals.
Shaun Clarida made his debut in the Men's Open division on Sunday. He is coming off a second-place finish at the Olympia 212. Clarida won the event back in 2020 before finishing second to Derek Lunsford this year. Clarida displayed a strong physique with his usual mix of size and conditioning.
Clarida had his work cutout for him in this contest going up against the likes of Sergio Oliva Jr. and Regan Grimes. After a disappointing outing in the Olympia, Grimes hired a new coach and made immediate changes. This paid off as he displayed an even bigger physique that will only continue to improve. Sergio Oliva Jr. was also present at the event. He has turned into one of the best posers in the world.
Cedric McMillan made his return to action this weekend. McMillan missed time with an injury and was forced to sit out of the Arnold Classic but appeared on the broadcast. Sadly, McMillan's bad luck continued as he mysteriously did not compete in the finals after performing during prejudging. No official statement has been made – but it is rumored that a sudden sickness took him out of the finals. Maxx Charles and Patrick Moore added even more star power to the competition. There was plenty of size present on stage on Sunday and the event did not disappoint.
There were six events in total at the 2021 Legion Sports Fest Pro looking for an automatic bid to the Olympia. The full results have been announced and can be found below!
Related: 2021 Legion Sports Fest Results & Recap — Shaun Clarida Wins Men's Open
2021 Legion Sports Fest Pro Results
2021 Legion Sports Fest Pro: All Division Winners
Men's Open: Shaun Clarida
Classic Physique: Jorge Herrera
Men's Physique: Kyron Holden
Fitness: Missy Truscott
Bikini: Ivanna Escandar
Women's Physique: Natalia Abraham Coelho
2021 Legion Sports Fest Pro Breakdown
Men's Open
First Place – Shaun Clarida
Second Place – Regan Grimes
Third Place – Sergio Oliva Jr.
Fourth Place – Tonio Burton
Fifth Place – Martin Fitzwater
Sixth Place – Joe Seeman
Classic Physique
First Place – Jorge Herrera
Second Place – Sabur Favors
Third Place – Jeff Hallenbeck
Fourth Place – Jorge Tabet Aleixandre
Fifth Place – Roman Taijeron
Sixth Place – Tyler Tallent
Men's Physique
First Place – Kyron Holden
Second Place – Arya Saffaie
Third Place – Suraqah Shabazz
Fourth Place – Corey Morris
Fifth Place – Rodrigue Chesnier
Sixth Place – Frank Worley
Fitness
First Place – Missy Truscott
Second Place – Tamara Vahn
Third Place – Terra Plum
Fourth Place – Rene Brosch
Fifth Place – Kimberly Baliutavicius
Sixth Place – Sally Kendall-Williams
Bikini
First Place – Ivanna Escandar
Second Place – Phoebe Hagan
Third Place – Alessia Facchin
Fourth Place – Hope Harper
Fifth Place – Adrianne Onofrei
Sixth Place – Rudy Guerrero
Women's Physique
First Place – Natalia Abraham Coelho
Second Place – Ivie Rhein
Third Place – Emily Renee Schubert
Fourth Place – Jodi Lyons
Fifth Place – Rachel Reid
Sixth Place – Jodi Marchuck
2021 Legion Sports Fest Pro Official Scorecards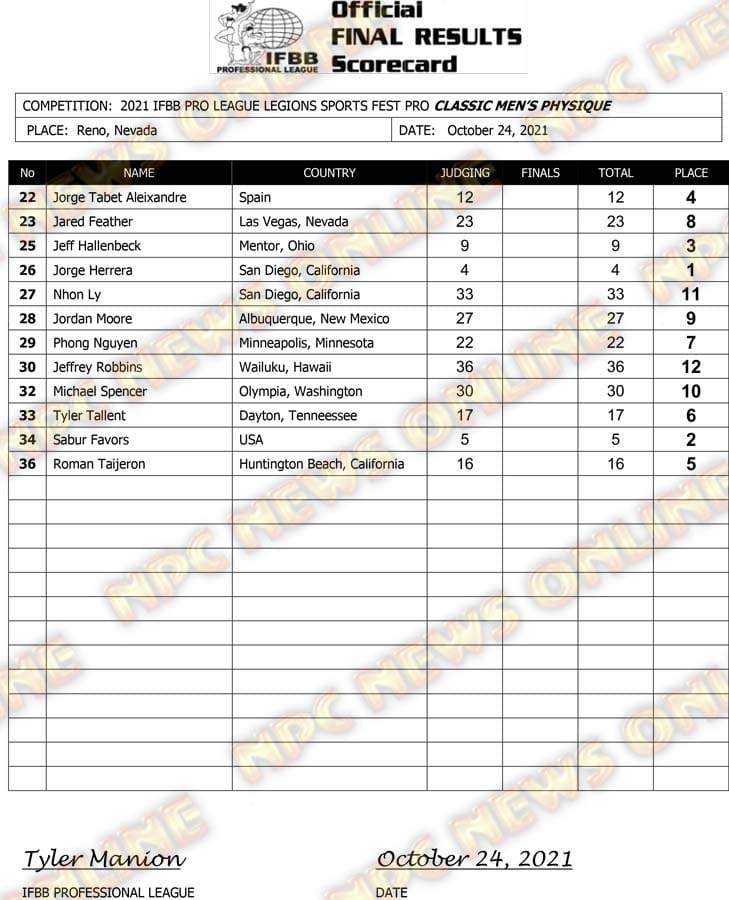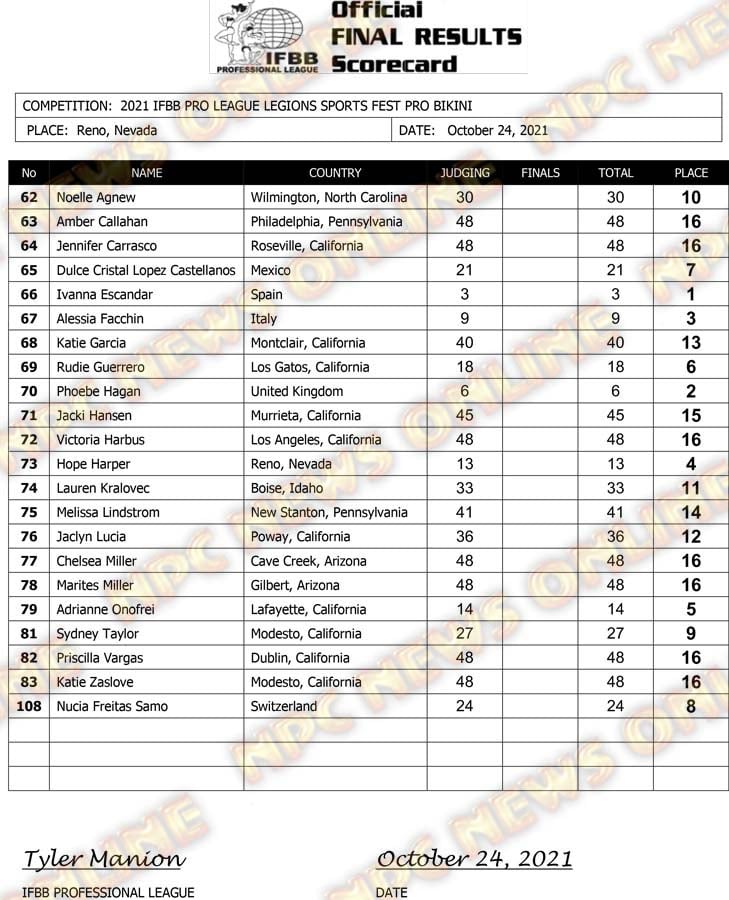 ---
IFBNewsfeed.Org wishes to congratulate all the great athletes who earned a win at the 2021 Legion Sports Fest Pro. Make sure to check out our full IFBB Pro results page from this year and previous years right here to catch up on any action you may have missed!