The 2021 EVLS Prague Pro took place on Saturday and it was highlighted by the Men's Open. Some of the top competitors in the world gathered in the Czech Republic to gain that automatic qualifier to the 2022 Olympia. This event is set to take place in December 2022 in Las Vegas. Who will win Men's Open during 2021 EVLS Prague Pro?
Regan Grimes already has his qualification for the biggest event of the year but he was quickly back on stage during the Prague Pro. Grimes was victorious during the 2021 KO Pro Egypt just one week ago but felt a need to get back on stage. Grimes has looked incredible during post-Olympia competitions and this could be because of a change made with his coach.
Grimes was a name to watch coming into the show, along with Nathan De Asha. It has been a bit of a tough go for De Asha when it comes to travel but he was able to get on stage during the Prague Pro. He has three victories so far in 2021. De Asha has been providing physique updates so it was not a surprise to see his performance on Saturday.
Samson Dauda was also quickly back on stage after appearing in Egypt last week. He finished third at the event, behind Grimes and Mohamed Shaaban. Dauda wasted no time getting back on stage. Rafael Brandao made his return to the competition and it will be interesting to see the course of action he takes moving forward.
There were six divisions in total where winners would qualify for the 2022 Olympia. The full results have been announced and the winners have claimed their prizes. Check out the full breakdown, along with scorecards, from each event below!
2021 EVLS Prague Pro: All Division Winners
Men's Open: Samson Dauda
Men's 212: Ahmad Ashkanani
Classic Physique: Ruben Lopez Reyes
Men's Physique: Balint Nemeth
Bikini: Alison Testu
Figure: Tereza Linhartova
2021 EVLS Prague Pro Breakdown
Men's Open
First Place – Samson Dauda ($10,000)
Second Place – Rafael Brandao ($4,000)
Third Place – Regan Grimes
Fourth Place – Nathan De Asha
Fifth Place – Roelly Winklaar
Sixth Place – Jan Turek
Men's 212
First Place – Ahmad Ashkanani ($4,000)
Second Place – Oleh Kryvyi
Third Place – Radoslav Angelov
Fourth Place – Abdulrahman Al Khashti
Fifth Place – Peter Kovac
Sixth Place – Steve Benthin
Classic Physique
First Place – Ruben Lopez Reyes
Second Place – Hubert Kulczynski
Third Place – Jesus Rodriguez Sendra
Fourth Place – Roberto Martinez Pizana
Fifth Place – Pavel Szotkowski
Sixth Place – Mikhail Timoshin
Men's Physique
First Place – Balint Nemeth
Second Place – Emile Walker 
Third Place – Jeffrey Darko
Fourth Place – Anton Antipov
Fifth Place – Dawid Wachelka
Sixth Place – Omar Suleiman
Bikini 
First Place – Alison Testu ($2,000)
Second Place – Stine Hansen ($1,000)
Third Place – Wiktoria Gasior ($500)
Fourth Place – Ana Maria Vintu
Fifth Place – Evita Breide
Sixth Place – Priscila Rodrigues
Figure
First Place – Tereza Linhartova ($2,000)
Second Place – Jennifer Zienert ($1,500)
Third Place – Anna Gasior ($1,000)
Fourth Place – Veronica Gallego Garcia
Fifth Place – Gabriela Linhartova
Sixth Place – Karolina Wojkic
Official Score Cards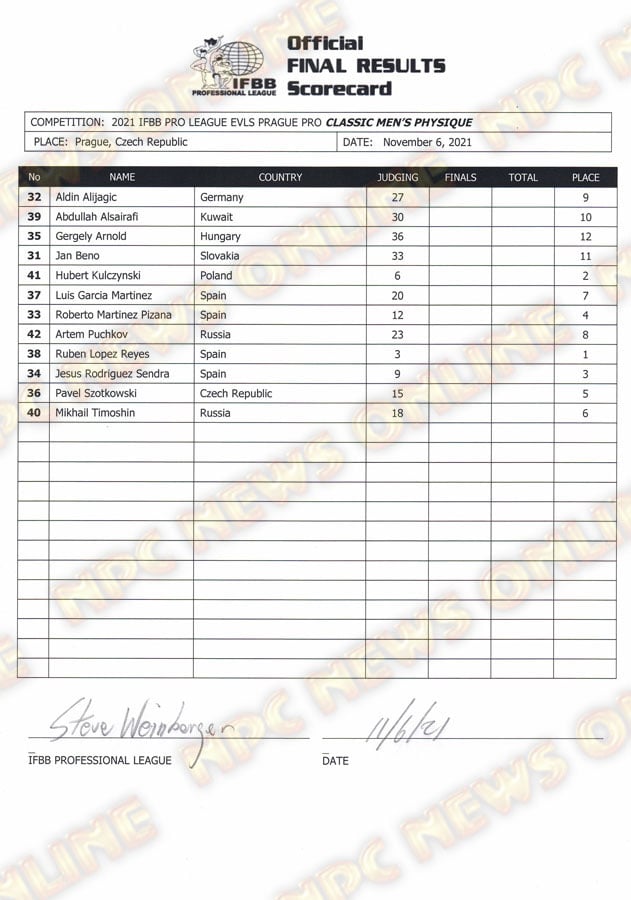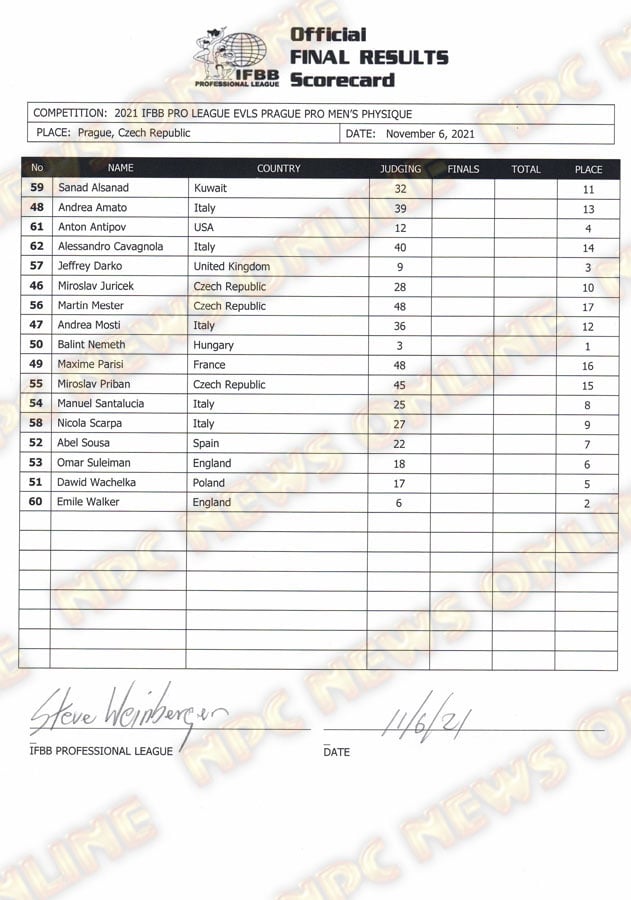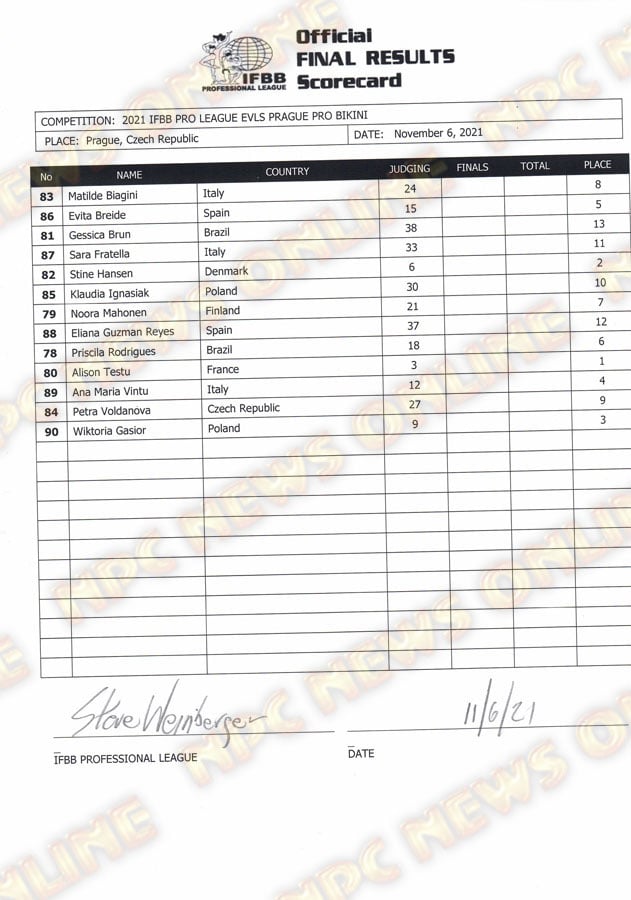 IFBNewsfeed.Org wishes to congratulate all the great athletes who earned a win at the 2021 EVLS Prague Pro. Make sure to check out our full IFBB Pro results page from this year and previous years right here to catch up on any action you may have missed!
---