This weekend, Saturday, December 4th, 2021, held the Battle Of Texas Supershow bodybuilding competition at the Irving Convention Center. The pro show solely featured an epic battle in the Bikini division. The results have finally been announced – and pro competitor Jennifer Ronzitti won first place a the 2021 Battle Of Texas.
The 2021 pro bodybuilding season "officially" ended on October 8th with Mr. Olympia 2021, with all following pro shows providing qualification and points towards the following Olympia in 2022. The Battle of Texas falls under this category during what is usually a sleepy month for the sport of bodybuilding. 17 Bikini competitors fought for top placings in Texas – but only one winner was able to stand tall in the end.
While Jennifer Ronzitti earned first place – other highlights include Alessia Facchin landing in second place and Mahsa Akbarimehr following in third place. Landing in the top three spots at a pro-competition is not only important for possible points towards Olympia qualification – but it also provides a highlight for athletes within the bodybuilding community.
Could these relative unknown competitors one day become household names vying for ultimate champion status at an event like the New York Pro, Arnold Classic, or even Olympia? Perhaps we will see this coming year in 2022.
The official results and scorecards have been released. Check out the entire results breakdown of the 2021 Battle Of Texas Supershow below.
2021 Battle Of Texas Breakdown
Bikini
First Place – Jennifer Ronzitti
Second Place – Alessia Facchin
Third Place – Mahsa Akbarimehr
Fourth Place – Marisa Woo
Fifth Place – Lawna Dunbar
Sixth Place – Rachel Linares
Seventh Place – Mary Ann Parks
Eighth Place – Aimee Leann Velasquez
Ninth Place – Lucia Malavaze
Tenth Place – Samantha Houle
Official 2021 Battle Of Texas Scorecard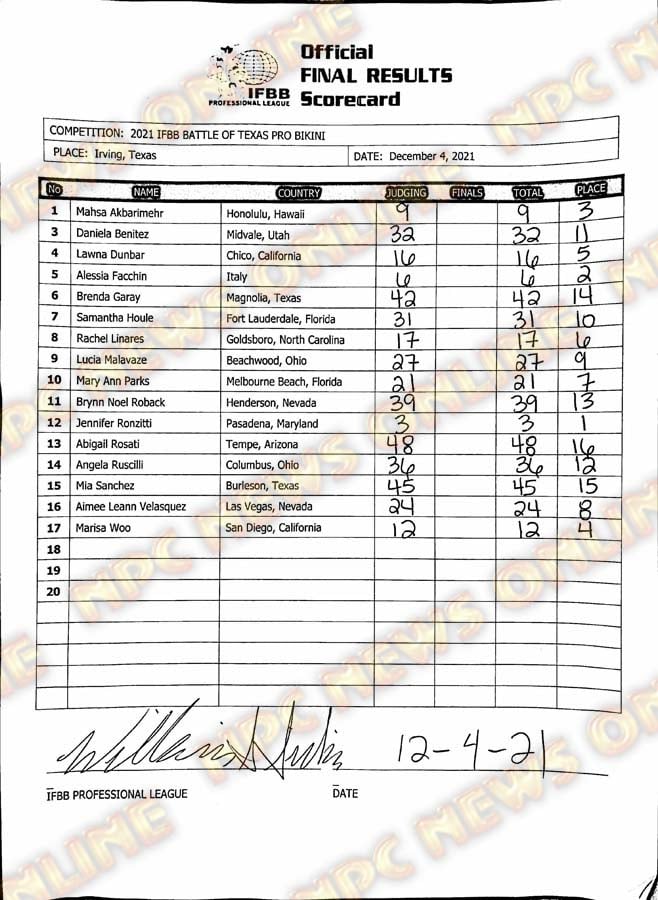 IFBNewsfeed.Org wishes to congratulate all the great athletes who earned a win at the 2021 Battle Of Texas. Make sure to check out our full IFBB Pro results page from this year and previous years right here to catch up on any action you may have missed!
---
For more news and updates, follow IFBNewsfeed.Org on Facebook, Twitter, and Instagram.