The 2021 Texas State Pro-Am took place on Saturday where Mehdi Larijani was able to take home the prize in the Classic Physique division. This is the event that highlighted the show in Austin, TX. Three divisions gathered to gain qualification to the 2022 Olympia in December of 2022.
This was a small show that took place weeks after Big Ramy defended his title in Orlando. This does not mean that it lacked quality as athletes showed up in their best shape looking to gain qualification to the Olympia. There were plenty of well-known names on stage on Saturday.
Larijani was active in 2020 but did not pick up a victory. He finished seventh at the Battle of Texas and fourth during the Chicago Pro last year. Larijani will not have a chance to take on some of the best in the world on the biggest stage. In Figure, Jessica Reyes Padilla took home gold and will prepare to compete in her sixth straight Olympia competition.
Padilla recently took the stage in Orlando and finished sixth in Figure. She was able to defeat Larhannah Robinson and Autumn Cleveland on stage in Austin. Rounding out the show was Yarishna Ayala Otero and Wellness. Sunny Andrews entered the competition as a dark-horse to win and ended up with the bronze medal. Otero earned qualification to the Olympia and has put her name on the map heading into 2022.
There were three bids handed out to the Olympia, which is set to take place in Las Vegas next year. The full results have been announced from the Texas State Pro-Am and they can be found below, along with the official scorecards!
2021 Texas State Pro-Am: All Division Results
Classic Physique: Mehdi Larijani
Figure: Jessica Reyes Padilla
Wellness: Yarishna Ayala Otero
2021 Texas State Pro-Am Breakdown
Classic Physique
First Place – Mehdi Larijani
Second Place – Dancovea Anderson
Third Place – Justin Badurina
Fourth Place – Harold Bright
Fifth Place – Shavis Higa
Figure
First Place – Jessica Reyes Padilla
Second Place – Larhannah Robinson
Third Place – Autumn Cleveland
Fourth Place – Militsa Rivera
Fifth Place – Sh'Nere Mattise Deas
Wellness
First Place – Yarishna Ayala Otero
Second Place – Barbara Emanuele Cesar
Third Place – Sunny Andrews
Fourth Place – Kassandra Gillis
Fifth Place – Tatiany Vaillant
Official Score Cards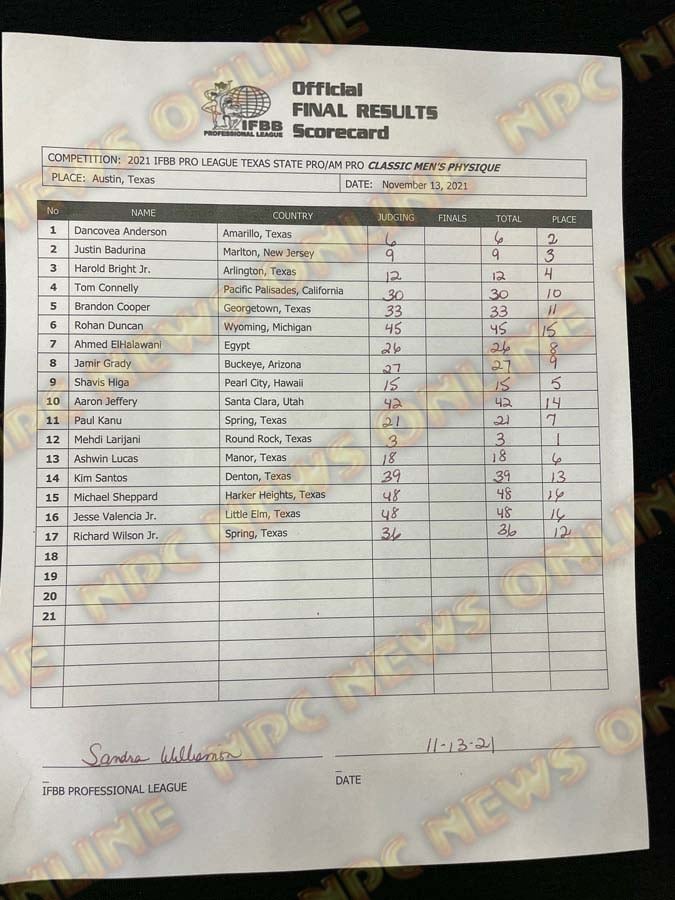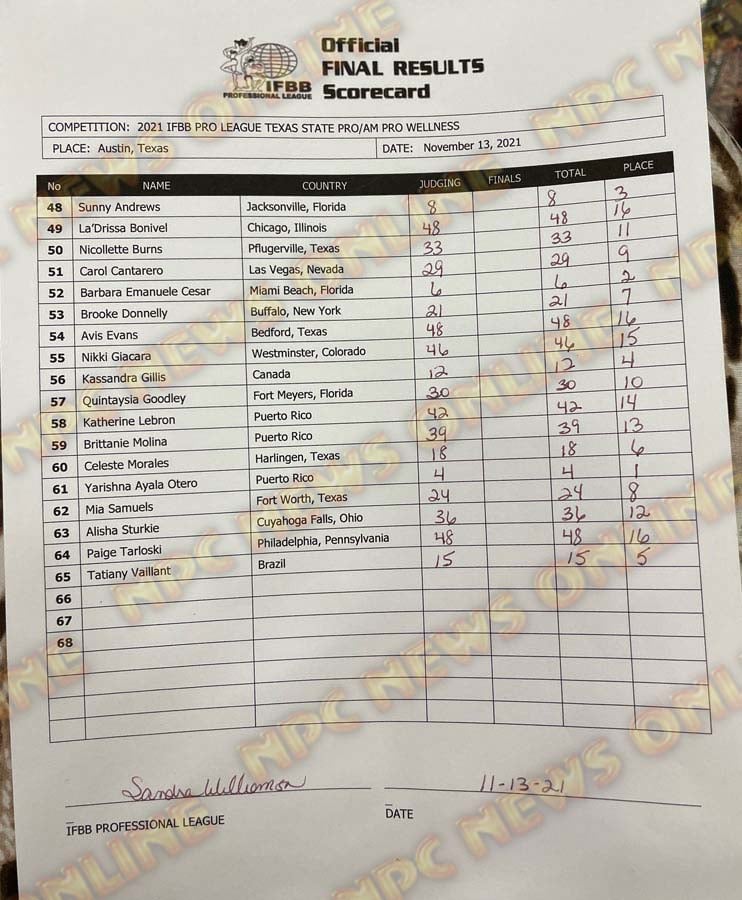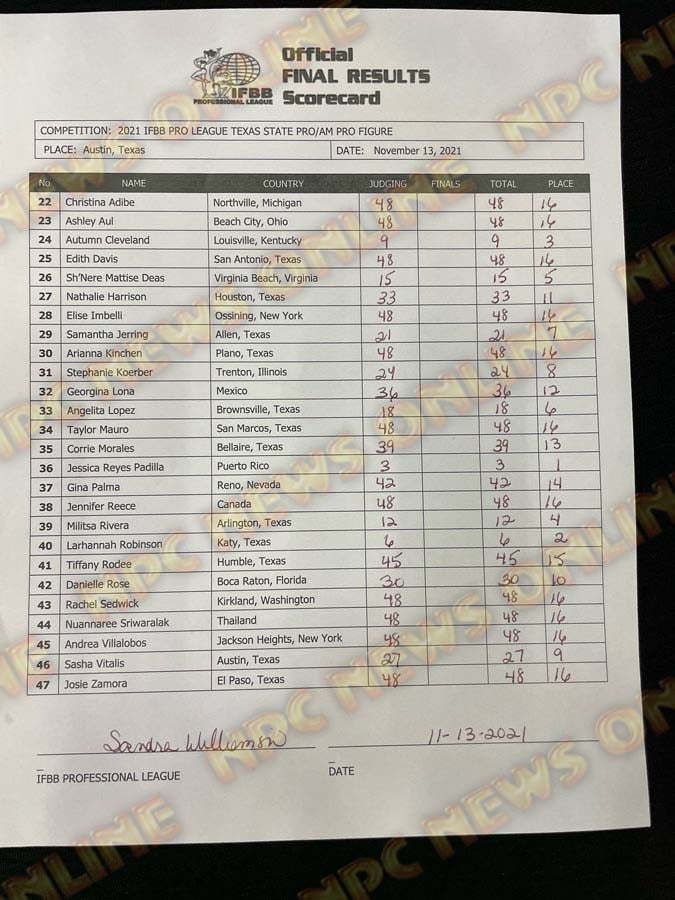 IFBNewsfeed.Org wishes to congratulate all the great athletes who earned a win at the 2021 Texas State Pro-Am. Make sure to check out our full IFBB Pro results page from this year and previous years right here to catch up on any action you may have missed!
---